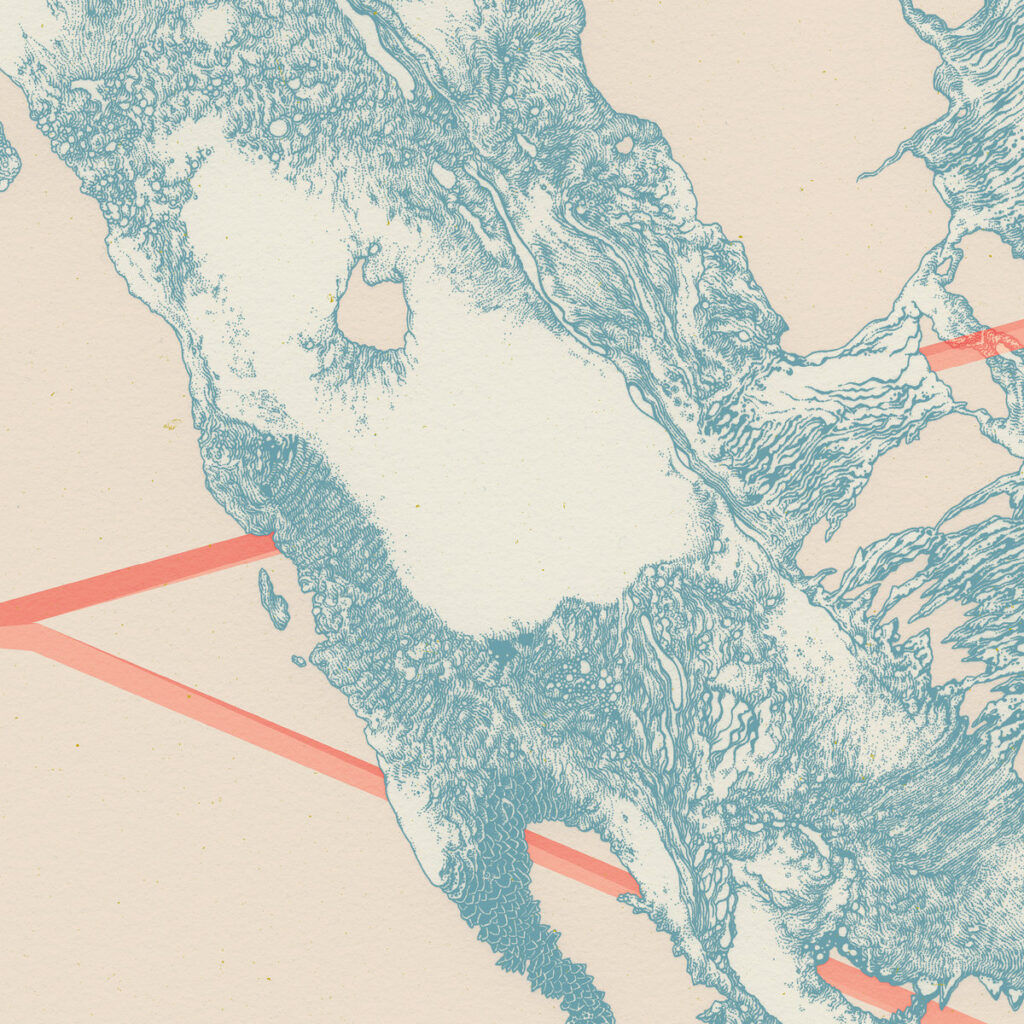 Toujours se méfier de ce qui est estampillé métal ou affilié et qui vient de Suisse, ils ont une tradition d'excellence dans le genre. Le nom de Convulsif ne cessait de revenir – que ce soit dans la programmation de Cave12 ou dans celle de l'excellente asso Drone to the bone (que la nostalgie finira par rendre mythique) – mais ce n'est qu'avec ce cinquième album que je les découvre vraiment. Ca fait un bout de temps que des groupes pratiquent ces musiques tout en les faisant sortir du format rock pour les emmener sur des terrains beaucoup plus ambitieux, un peu comme si elles étaient entrées dans une période de maturité. Morceaux dépassant régulièrement les dix minutes, influence des musiques jazz ou contemporaine parfois, croisements audacieux. Comme leurs collègues de label, HEX, Convulsif est de cette trempe-là.
Chez Convulsif, c'est un violon et une clarinette basse qui font face au traditionnel basse-batterie et qui, autour d'un axe rythmique féroce, sculpté, volontiers répétitif et minimaliste, déploient leurs figures. En ouverture de l'album, « Buried in one » fait ainsi défiler des plages bruitistes dans une sorte d'écriture syncopée vraiment frappante, tandis que les notes tenues de « Five days of open bone » viennent s'enrouler sur une basse aux aguets dans une montée presque post-rock – mais, chez Convulsif, le post-rock vient se fracasser sur une vague furieuse où le quatuor fait la démonstration de toute la brutalité dont il est capable. La machinerie atteint des dimensions franchement stratosphériques sur le tournoyant « The axe will break ». Aussi bien, Convulsif ne dédaigne pas pour autant le format coup de poing comme sur « Feed my spirit side by side » où la basse et ses coups de butoir rythmés comme des frappes de boxeurs sont à l'honneur, ni les dingueries hybrides, les rythmiques monstrueuses et concassées qui finiront par se destructurer tout à fait de « Torn from the stone » et « Surround the arms of revolution ». On pense tout à tour à John Zorn, à Noxagt, à Morkobot.
Dans ce théâtre fracturé, le groupe se montre totalement maître des temporalités qu'il impose, tantôt déployées à l'infini, tantôt brutalement repliées sur elles-mêmes, comme au coeur d'une décharge de foudre. Un champ de perturbations magnétiques fascinant dans lequel il était grand temps d'entrer.
Convulsif, « Extinct » LP (Hummus records)
>>>>>>>>>> CONVULSIF
>>>>>>>>>> HUMMUS RECORDS