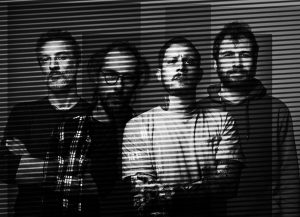 Year after year and record after record, Gerda has become another name for total engagement in a dark, abrasive, deeply-felt noisy hardcore sound. So I was ever so  stocked when hearing the news they were playing Geneva last October. And this is what I did : made myself a note to go, planned my trip carefully and arrived just right at the end of their show. Bumping into the Italians near the kitchen of the squatted house, I decided to improvise an interview. My questions were short, half unclear and only partly coherent and I probably came out as a complete idiot. But the boys were cool with it. And even managed to make it an interesting moment. Read on.
You're playing in a squatt tonight, how do you feel about that ?
Alessio (bass) : It's very natural. It's like being at home. This is where we come from and where we belong. The band started in a squatt similar to this in our hometown. With people doing politics, pressure groups, antifa, organizing stuff. So it makes sense to us to travel and meet this kind of places.
Can you tell us a bit about this tour and how you organize things ?
Alessio : It's a short tour because in this part of our life we need to make it compact. It's nine days and eight shows. We play Geneva tonight, then Paris, Nantes, Soraluze near Biarritz and then Vitoria, Gasteiz and Pau and back. We do everything by ourselves, we are a DIY band. Except wedon't have our own label. We rely on people that have now become friends – very small DIY labels but they've been dealing with music since the beginning.
Alessandro (singer) : Also it allows us to get a better distribution. Some are recent, others have been around for a long time. It has become part of our game.
Alessio : Yeah, it's like a big family.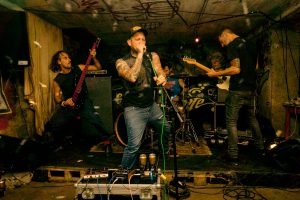 So you are in this DIY network and obviously it works because it allows you to tour, make records, make people hear your music – what would you say works less well or you would like to see work better ?
Alessio : Everything is very efficient -except that maybe it's a small group of people and it's not really easy to break though and meet audiences that are not specifically connected to this or that genre. Which I think is a pity because I know that our band can meet any kind of audience. During tours, we play in random bars in front of random people and it ends up being great shows.
Alessandro : Yeah, it's not just the music, it's how you play it.
Please, don't make me regret missing your show, please…
Alessio : But that's the only thing that is not working so well. And it's not because we or our label want it, it's because bigger labels have marketing and work hard on people's imagination. They take all the available space.
Roberto (guitare) : A few years ago we played a bar in France. It looked weird at first, it seemed we were kind of out of place but the night was really cool. Really good vibes.
Alessio : Buying records even though they didn't know us…
Alessandro : Sometimes it's even better, to be a complete outsider.
Your album « Black queer » was released recently and it's you, Alessio, who recorded it. Can you tell us a little bit about that choice ?
Alessio : This is the first album that we did entirely on our own, besides a single song that we did on a split 7'' (Split 7'' with Lleroy, released on BloodySoundFucktory as part of the volumorama series. – Ed.) and that was our first experimentation with recording. There are several reasons why we decided to record it ourselves. One is that our sound engineer left and another is that it felt like the right time for us to try this. If it had been 10 or even 5 years ago, fuck, we would have reallly struggled. But I have to say we were starting to think that it was about time to try, jamming with gear and do the sound ourselves.
Roberto : When you are on your own, it's risky but you dare to try things and you succeed.
Alessio : Yeah, you know better what you want but you know less how to get it. Our sound egineer produced something like 600 records and I produced one record. I think you can hear it's a job made by a young producer.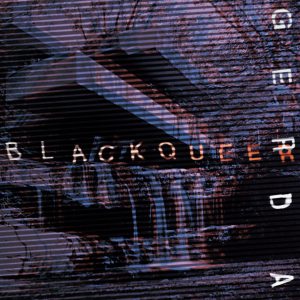 To tell you the truth I thought it was produced by Steve Albini (Laughs) and I went around telling everybody there's this Italian band, really cool, recorded by Steve Albini !… Seriously, I thought the sound was interesting, with drums quite in the foreground and the music in the back with almost a shoe-gaze/ambient feel… And also the guitar sound is quite clean, compared to the usual distorted guitars…
Alessio : Yeah, I think the guitars are very much in the focus in this album. Maybe it's a bit more melodic maybe the songs are a little simpler. My wife says we're getting older. (Laughs)
Roberto : Some of the songs had a different approach, starting from the guitar, whereas the previous records were more based on drums and bass.
Can you tell us a little bit about the choice to sing in Italian ?
Alessandro : Since we started it was very important for us to express very directly what we want so Italian was our first choice. More or less all of us write lyrics. It's easier for us and we feel more confident this way. It has never really been a question among us.
Alessio : It feels very natural. Playing outside of Italy, we bring something from where you come from. And also I think it's important that there is a tradition of Italian hardcore. It's not like we wanted to raise a flag but… There are so many Italian bands that are influential worldwide, like Negazione, Nerorgasmo, Wretched… I believe we are part of that tradition.
What about the title of the last album ?
Alessandro : Ha ha, the title is in English !
Alessio : There is an ironic side to maybe not the music but in what surrounds it. « Your sister » (tTitle of the previous album – Ed.) is an insult and that was also ironic. Very rude way of refering to your sister So we said yeah, let's translate it and make it Little Italy kind of insult ! Black queer is partly the same kind of idea but it's also heavy and deep. I think we like putting funny and serious stuff.
Roberto : The whole album is dedicated to my brother, who died three years ago. He had a band, he was a brother to all of us. He had a very difficult life. He was a very powerful artist – not only a musician – and very tormented. His main problem was that he needed a lot of space to express himself so, when he couldn't find it, it was like dying. He felt too different from other people. Sometimes he felt treated like a leper. So the meaning of Black queer for us is to never feel ashamed of your difference. Even if nobody likes it. Be yourself in the face of the others.
It's a very personal story…
Alessio : Yeah, there are many layers…
Alessandro : On the record there is a song from his band.
Alessio : Also queer is a cool word for us to refer to our music, which doesn't necessarily fit into categories : hardcore, noise, post punk, metal and so on. Typical metalheads might not be very happy with it. So we call it queer because it is queer music, crossing genres and expectations. Black because… it's dark music.
And also relating to political aspects…
Alessio : Yeah, of course ! That's also what we wanted to talk about. How certain categories of people can be perceived as dangerous or wrong or just mistreated. Black people, queer people. It's also the social and political idea of the title.
Do you think hardcore or heavy music can be a voice for these people ?
Alessio : Ha ha ! I think it could be but there are not many queer or gay people playing harcore but it would be lovely to have more. But actually I don't know many but there are some !
Alessandro : Of course, there are !
Alessio : But I don't think we should talk about music genres. Music should be a way to say what you want to say. Of course DIY can be a way for queer people to express themselves.
La photo de Gerda à la Zona mutante est toujours de Olive – merci à lui.
>>>>>>>>>> GERDA