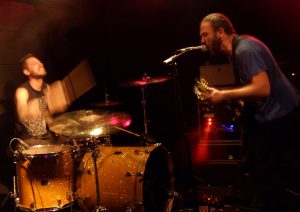 Affiche plutôt européenne ce soir-là à l'Usine – comme l'a fait remarqué quelqu'un. Les lillois de Psychophore (avec un(e) membre de 20 minutes de chaos) jouaient d'abord, suivis de Coupe-gorge, un groupe punk-oï genevois très actif en ce moment. J'étais pas là pour ces deux groupes mais quiconque veut savoir ce qu'il en était peut regarder ici ou là.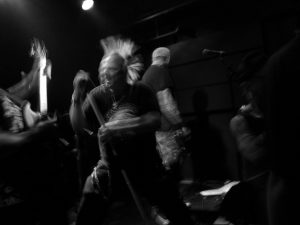 Arrivée tardive donc, au milieu du set des punks anglais The Varukers. Groupe historique assez proche,  idéologiquement et musicalement, de Discharge, dont il compte – ou comptait, suis pas allé vérifié – des membres. Le chanteur annonce que le groupe célèbre ses 40 ans d'activités l'an prochain. Ce qui d'ailleurs ne fait pas réagir grand monde. Est-ce que c'est du au degré d'ébriété dans le public ou au niveau moyen du punk genevois en anglais, ça j'en sais rien.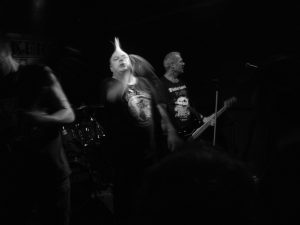 N'empêche que leur set reste bien agressif. Toutes crêtes dehors, avec paroles haineuses contre les gouvernements, le capitalisme et la guerre et accent anglais à couper au couteau, comme il se doit. Enrico, le guitariste de Turin horse qui joueront juste après, racontera que, lorsqu'il est monté sur scène à la fin du set pour féliciter le guitariste, celui-ci lui a répondu « C'est sympa, mec, mais j'en ai rien à foutre. » Ha ha.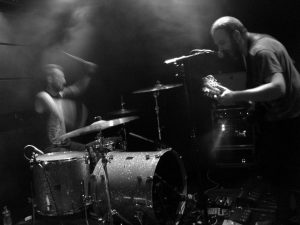 Initialement prévus à la Makhno, à l'étage au-dessus, The Turin Horse avaient été rajoutés sur l'affiche. L'occasion de mélanger les publics, aussi bien. Le 1er EP de ce duo turinois avait fait carrément forte impression et on peut d'ailleurs lire son interview par ici.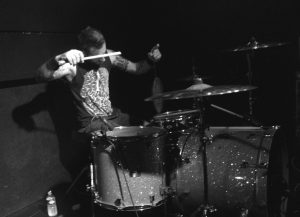 Enrico – T-shirt de Père Ubu, petit, trapu et jovial – et Alain –  longiligne, tatoué, plus réservé – sont deux gars à priori assez différents. Mais sur scène c'est une seule et même créature enragée, écumante et tentaculaire. On reconnait The regret song et The light that failed, les deux morceaux du EP – pas de reprise d'Unsane ce soir-là . Et on découvre tout un tas de brulôts tirés des mêmes charbons ardents, qui devraient fournir la matière de l'album à venir. L'ambiance est à peine tempérée par un morceau plus calme, atmosphérique et menaçant, au mileu du set. Comme du Pink floyd acide.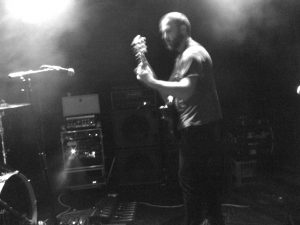 C'est quand même autre chose de les voir sur scène. On se rend compte de la précision et de la force de frappe du duo. Emotionnel, chaotique et évocateur, leur noise-rock furieux transcende les genres et pourrait certainement parler à des gens de tous horizons. En tous cas, il a fait le bonheur des 15 personnes présentes, qui hurlent leur enthousiasme à chaque morceau et empêchent le groupe de quitter la scène à la fin du concert.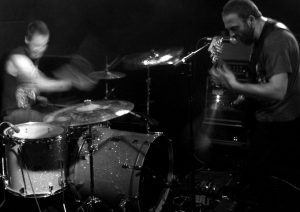 Ben ouais, il y a encore des gens prêts à rester éveillés jusqu'à deux heures du mat en semaine pour être témoins de ça.
>>>>>>>>>>>> THE TURIN HORSE
>>>>>>>>>>>> THE VARUKERS
>>>>>>>>>>>> DRONE TO THE BONE