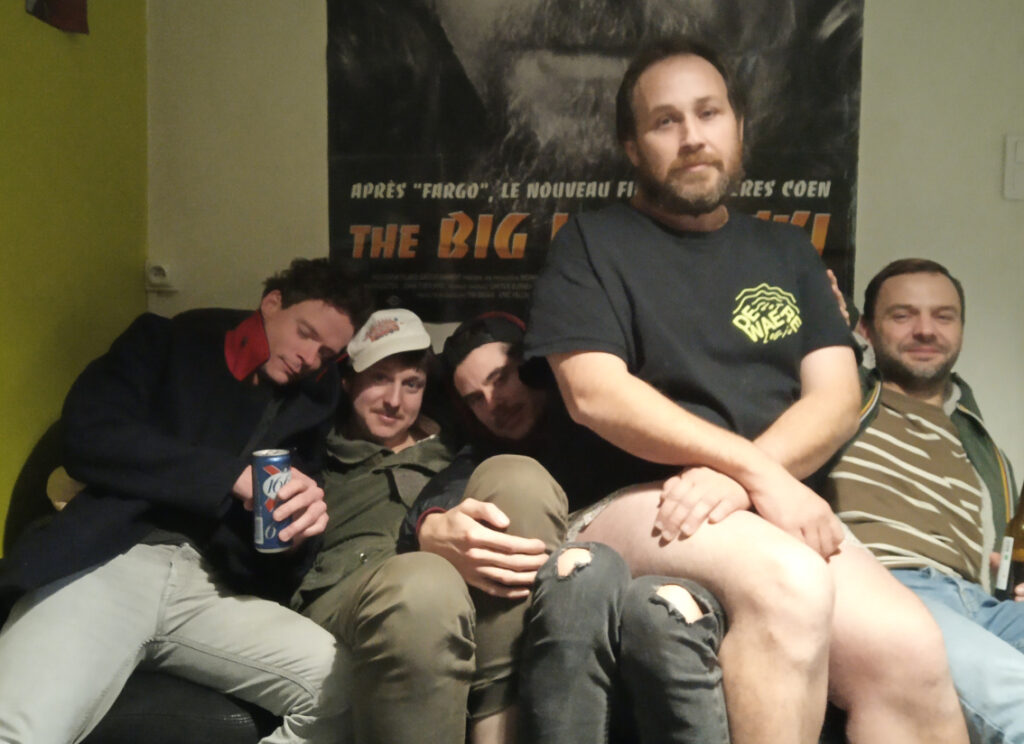 Dans la foulée de leur concert au Poulpe, les membres du quatuor pop-punk-noise explosif Dewaere ont pris le temps de répondre à mes questions. Etaient présents Marc (basse), Julien (guitare) et Maxwell (chant) ainsi que Franck (batterie) et Yann (tour manager qui fera quelques interventions bien senties). J'ai l'habitude d'ajouter la mention (Rires) pour donner une idée de l'état d'esprit à ce moment mais, là, c'est toute l'interview qui est à lire avec un sens de l'humour et du second degré bien aiguisé. Dewaere, c'est des tubes en série qui explosent sur disque, des concerts pied au plancher souvent délirants et incontrôlables mais leur interviews aussi sont rock'n roll.
Vous jouez très régulièrement et votre album en est à son troisième repressage : ça a l'air de pas mal marcher pour Dewaere. Est-ce-que c'est le fruit d'une stratégie établie et vous étiez sûrs de votre coup ou, au contraire, est-ce-que ça vous prend un peu par surprise ?
Marc : Totalement par suprise. Quand j'ai été recruté pour un boulot, on m'a demandé : « Est-ce-que tu vas repartir en tournée ? Est-ce-que tu seras totalement dispo pour le travail qu'on te propose ? » Moi j'ai dit : « Les tournées, c'est terminé ! » – j'avais 38 balais à l'époque – et je me retrouve dans la situation totalement inverse ! Mais, à la base, ce groupe, c'était juste pour faire du rock.
Julien : On a composé des morceaux, on a rencontré Maxwell. On s'est dit c'est cool, ça nous plait, on enregistre. Notre batteur connaissait un gars de chez Bigoût records et de chez Phantom records. On a envoyé notre album. Les mecs ont dit : « Oh, c'est génial ! » Ils nous ont proposé un deal pour 300 vinyles. Donc on a sorti l'album et suite à la sortie de l'album, on a eu de bons retours, qui nous ont apporté des dates, qui nous ont apporté un tourneur, puis d'autres dates, encore de bons retours sur l'album hyper régulièrement… Tout s'est enchaîné mais c'était hyper inattendu…

Hugues jouait dans Flying worker auparavant, et aussi Neige morte, Veuve SS – des groupes qui tournaient ou tournent plutôt dans la scène hardcore/DIY -, est-ce-que le fait de travailler avec des intermédiaires comme votre tourneur et dans des circuits plus larges vous pose certaines questions ?
Maxwell : Moi, je déteste chercher les dates, organiser les répètes – et je crois que tous les musiciens sont d'accord avec moi quand je dis ça. Quand tu as quelqu'un qui organise des dates, franchement tu peux te branler sous la douche tranquillement avec l'image de la reine dans ta tête ! (Marc plié de rire. NDLR)
Julien : Et puis, c'est pas comme si on était avec un agent véreux. Le mec, il est plus jeune que nous…
Marc : Il est méga passionné. Notre relation est hyper saine. On est à la même hauteur. Il nous aide à nous développer, il a capté le truc et… il bosse bien !
Maxwell : Il nous adore et on l'adore !
Julien : Parfois, il y a eu des gens qui nous disaient : « Nous, on veut pas passer par un tourneur, on veut passer en direct. » Mais c'est unE erreur totale parce qu'en passant par eux, c'est tellement plus simple. Eux, c'est leur métier. Nous, notre truc c'est de jouer de la musique et, eux, c'est d'organiser.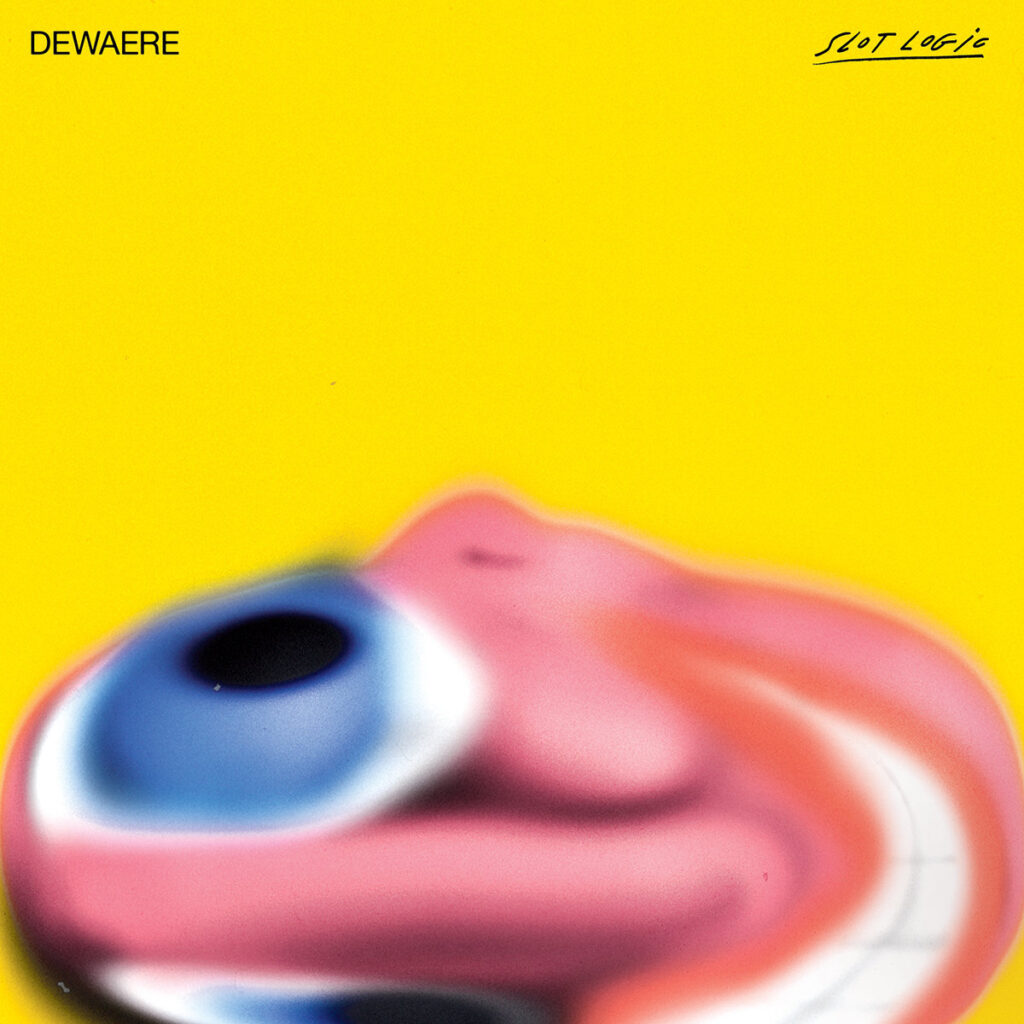 Du coup, qu'est-ce-que vous pensez des pratiques des tourneurs qui consistent à avoir un droit de regard sur les premières parties ?
Julien : Franchement… Pas grand-chose. Je pense que si j'étais tourneur, je ferais la même chose !
Marc : Là, tu poses la question aux musiciens, faudrait que tu demandes au tourneur. Basiquement, le tourneur, c'est un vendeur mais un vendeur qui kiffe son truc, pas un mec qui vend des pots de yaourts, c'est un métier passion. Si il nous fait jouer dans des lieux comme ici, c'est pas pour l'argent, c'est parce que c'est là que le groupe rencontre son public.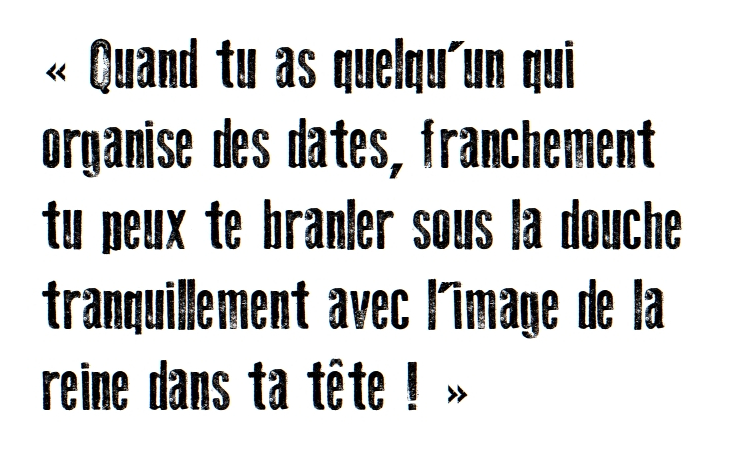 Julien : Il y a des tourneurs qui nous auraient fait jouer en première partie de Matmatah à l'Olympia mais lui si il nous fait jouer en première partie, c'est sur une date avec le Villejuif underground ou avec Cocaine piss.
Maxwell : Ca marcherait pas du tout…
Julien (interloqué) : Je sais pas… Pourquoi ?
Maxwell : Ca marcherait pas du tout parce que c'est NOUS les meilleurs ! (Rires)
Julien : Non, ce qui fait qu'on est bien avec lui, c'est que c'est pas business mais il y a un bon truc de développement.
Votre musique a un côté assez entraînant, assez fun. Est-ce-que c'est une envie que vous aviez dès le départ ?
Julien : Pas du tout ! Avant que Maxwell arrive, on avait que des instrumentaux orientés noise/math-rock. Assez rapidement, on s'est rendu compte qu'il fallait que nos morceaux deviennent des chansons.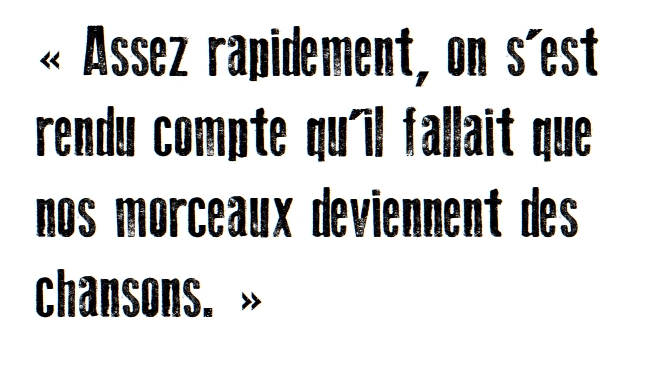 C'est vrai que la voix de Maxwell sur du math-rock, j'ai un peu du mal à imaginer ce que ça pourrait donner…
Marc : Si ! Si ! Ca pourrait marcher mais ça serait vraiment chelou !
Julien : Il a apporté quelque chose de beaucoup plus pop à nos morceaux et c'est tant mieux.
Gloire à Maxwell , quoi !
Marc : Ca a été un putain de coup de bol et c'est génial ! (Il se tourne vers Maxwell) Si tu veux, tout à l'heure, je te… (Une certaine conception de la décence m'empêche in extremis – malheureusement peut-être – de reproduire la proposition à caractère sexuel de Marc dans sa totalité, ni la réponse de Maxwell qui, il faut bien le dire, n'est JAMAIS pris en défaut de répartie. NDLR)
On entend parfois dire que, pour les groupes à guitare, c'est un peu la fin, qu'il y a plus trop de public, qu'est-ce-que vous en pensez ?
Julien : Moi, je trouve que c'est le contraire, je trouve que ça revient !
Marc : Il y a toujours un public pour les bons groupes et pour les bonnes chansons. Tu peux faire de la techno au kilomètre, ça va marcher 5 ou 6 ans, tu vas remplir ton festival parce que les mecs sont sous MD et qu'ils sont défoncés. Mais que ce soit en rap, en rock, en pop, c'est exactement pareil, les gens viennent chercher une émotion. A partir du moment où tu dis vraiment quelque chose, de la manière la plus pop qui soit, tu touches tout à coup un public hyper large et réceptif !
Yann (semblant se réveiller tout-à-coup) : Est-ce que vous voulez voir ma raie ? Ou mon zizi ?
Maxwell : Yann Olivier entre en scène !
Les gens parlent parfois des années 90 comme d'un âge d'or…
Marc : En tous cas, dans les années 90, Maxwell n'écoutait aucun groupe des années 90 !
Maxwell : C'est n'importe quoi : Michael Jackson, Spice girls, Fucking backstreet boys ! Mais bon, je suis né en 87, mec. These fucking dickheads listened to Nirvana, Sonic youth…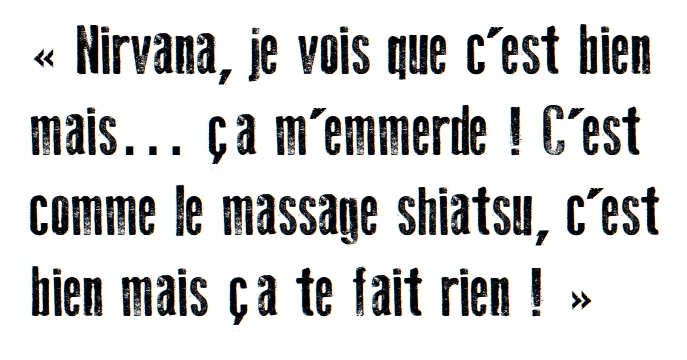 Marc : J'écoutais du black metal !
Maxwell : Non, toute ma vie, j'ai écouté les Beatles ! Pour moi, c'est tout ce qui compte ! Nirvana, je vois que c'est bien mais… ça m'emmerde ! C'est comme le massage shiatsu, c'est bien mais ça te fait rien !
(A ce moment, Julien essaye de m'expliquer le son de guitare qui l'inspire dans Nevermind pendant que les autres parlent de fantasme sexuels inspirés par la pochette de l'album de Nevermind de Nirvana… le résultat est difficile à transcrire. NDLR)
Maxwell (hurlant par-dessus la mélée) : FUCKING LISTEN TO THE BEATLES, YOU FUCKING IDIOTS !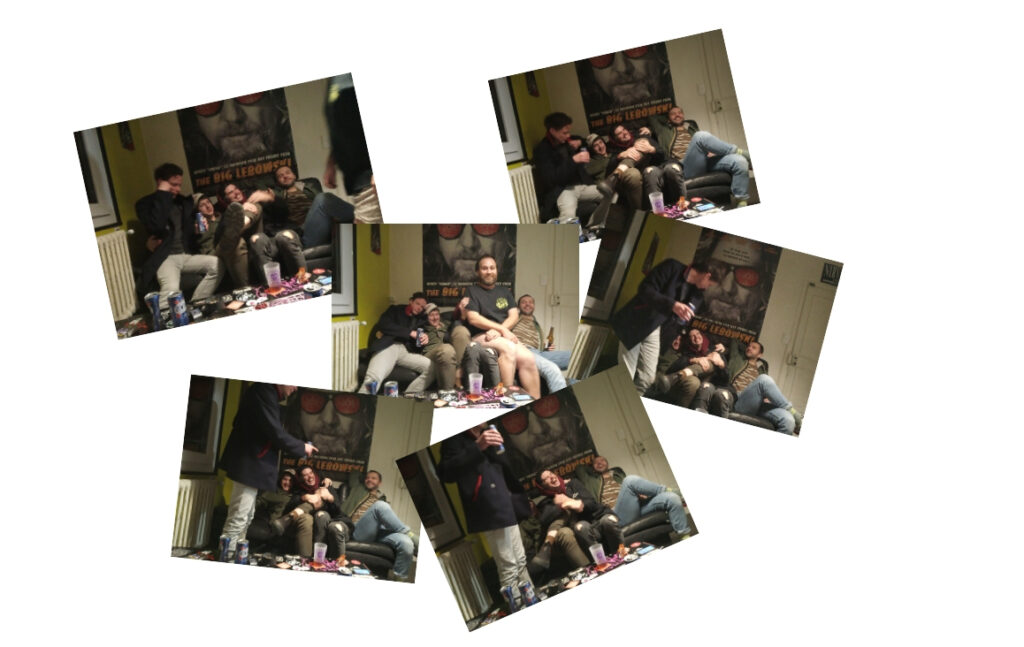 OK, Maxwell parle-nous un peu des Beatles…
Maxwell : Si tu veux, toute la musique d'aujourd'hui, c'est à base de Beatles !
Julien : Tu crois que Beethoven a attendu que les Beatles arrivent ?
Maxwell : Les Beatles, c'est Beethoven ! … Non, mais au niveau des pop, mélodies – bon, les paroles, on s'en fout – c'est juste génial.
Julien : En vrai, tu as complètement raison.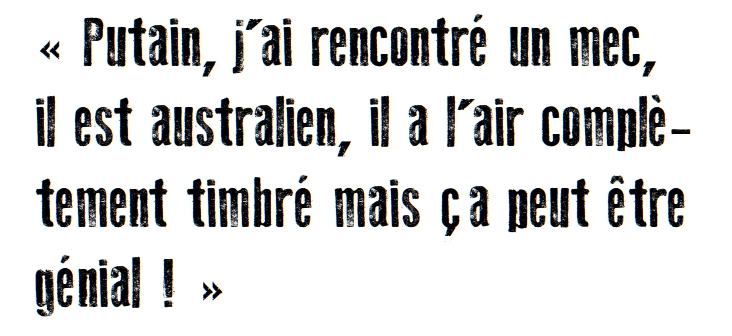 OK, Maxwell, tu viens d'une autre culture, pas forcément rock, punk, noise, etc. Qu'est-ce-que tu as pensé d'eux la première fois que tu les as écoutés ?
Maxwell : Ils m'avaient dit que c'était « noise-punk »…
C'est ce que tout le monde dit, d'ailleurs…
Maxwell : Pour moi, « noise-punk », c'est The Fall mais hyper expérimental ! Pas de mélodies, rien ! C'est juste TRRRRFFFFFXXXXRRRRRZZZZ BBBBBRRRRRTTTTRRREWWWKKKKRRRR !!!!!!!! (Il fait le bruit avec sa bouche. NDLR) Ca m'excitait… Je suis arrivé à la répète, c'était pas du tout ça ! C'était un peu… organisé… un peu math-rock. C'était pas du tout ce que je pensais. Et du coup, je me suis un peu forcé parce que je connaissais personne à Saint-Brieuc et je voulais me faire des potes. (Rires) Je leur ai dit : « Vous faites de la merde, vous avez besoin de moi. »
Marc : On a pas besoin de toi ! Je t'ai trouvé ivre mort dans une soirée et je t'ai dit : « Eh putain, toi, t'as pas l'air français ! » et on a commencé à discuter. C'est exactement comme ça que ça c'est passé !
Julien : Le lendemain matin, j'avais un message de Marc qui disait : « Putain, j'ai rencontré un mec, il est australien, il a l'air complètement timbré mais ça peut être génial ! »
Vous racontez deux moments différents, en fait…
Marc : Pendant la première répète, il est resté assis à boire pendant une heure et demie. Il a tisé une première bouteille de Chardonnay, puis il en a ouvert une deuxième et enfin il s'est tourné vers le micro et il s'est mis à hurler comme un sauvage !
Julien : On a l'enregistrement de la première répète, j'avais l'impression d'entendre Jim Morisson en train de faire des Oh-oh-oh sur notre musique ! On était hyper surpris mais c'était génial. Moi, le lendemain matin, je me suis réveillé en me disant : c'est bon.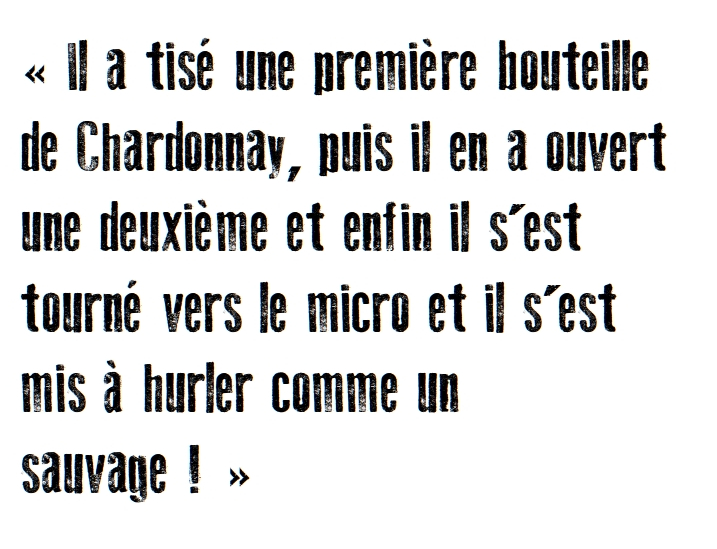 Marc : Exactement, c'est le gars qui nous fallait et puis voilà ! On s'est pas posé la question trois secondes ! C'était génial, déglingo comme il fallait. Il chantait juste comme il fallait, il mettait l'émotion pile poil où il fallait. C'était parfait. Et la lumière fût !
Vous avez complètement changé votre musique du coup ? Ca a mis longtemps à se mettre en place ?
Marc : Non, non, on n'a pas complètement changé. Il y a des morceaux qu'on joue encore qui sont issus de cette période-là…
Julien : C'est pas ses préférés, à Maxwell, mais bon…
Marc : Ce qui s'est passé, c'est qu'on a recommencé à composer comme on ne faisait plus. On s'est remis à composer en studio, à amener des riffs, il avait ses propres chansons qu'on a bousculées. On a bousculés nos chansons pour mettre du Maxwell dedans et puis voilà ! En fait l'album est né de l'espèce de pâte à modeler de cette époque-là
Maxwell, quel est ton rapport avec la langue française ? Est-ce-qu'il y a des groupes qui chantent en français que tu aimes ?
Maxwell : Je peux name-drop beaucoup de mes potes, là… J'adore les groupes français qui chantent en françmportant. Ils sortent pleins de groupes super bien. Il y a un groupe qui s'appelle Kévin Colin et les Crazy Antonins, Roland Cristal, Kévin Cristal, Kévin Colin… Tous mes potes de Toulouse… sans eux, je ne suis rien !
Marc : Ben merci, on est vraiment très content de t'avoir parmi nous, connard de merde ! (Rires) On est vraiment très contents d'être là ce soir mais je pense qu'on va y aller maintenant…
Maxwell : C'est des gens qui m'ont vraiment touchés… Bref, la chanson française, j'adore ! Il faut que les français gardent la chanson française au lieu d'essayer de chanter en anglais !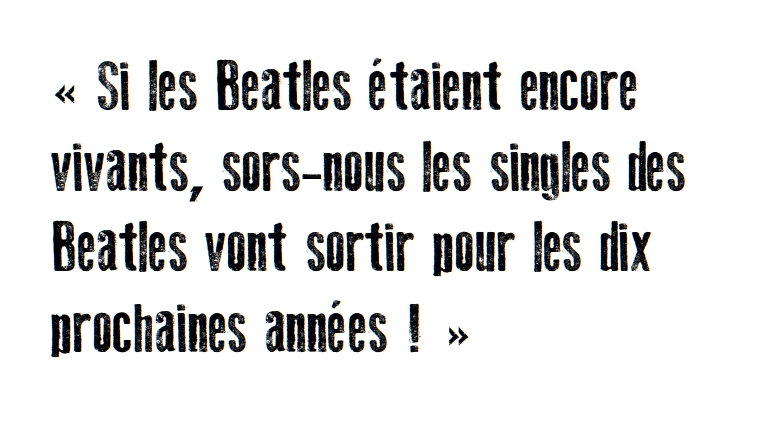 Et le rock en français, t'aimes bien ?
Maxwell : Ouais, j'adore ! Jacques Dutronc ! Françoise Hardy !
Julien : C'est pas rock…
Maxwell : Si, si, c'est rock, rock n'roll, un peu…
Julien : Françoise Hardy, rock 'n roll ?
Maxwell : Serge Gainsbourg, Sheila, France Gall…
Pour moi, ça tombe davantage dans la variété ou la pop…
Marc : Cette discussion est complètement dingue parce que c'est deux mondes totalement différents ! Tu attends des références alterno d'un type qui considère qu'en fait la pop est rock !
Maxwell : Pour moi, la pop ça couvre tout. Et le rock, c'est une petite partie de la pop.
Marc : Mais un truc vraiment rock en français que tu aimes, ça serait quoi ?
Maxwell : Cobra… mais en fait j'aime pas trop. Je trouve que c'est drôle mais j'écouterais jamais tout seul. Dans le camion, ça va !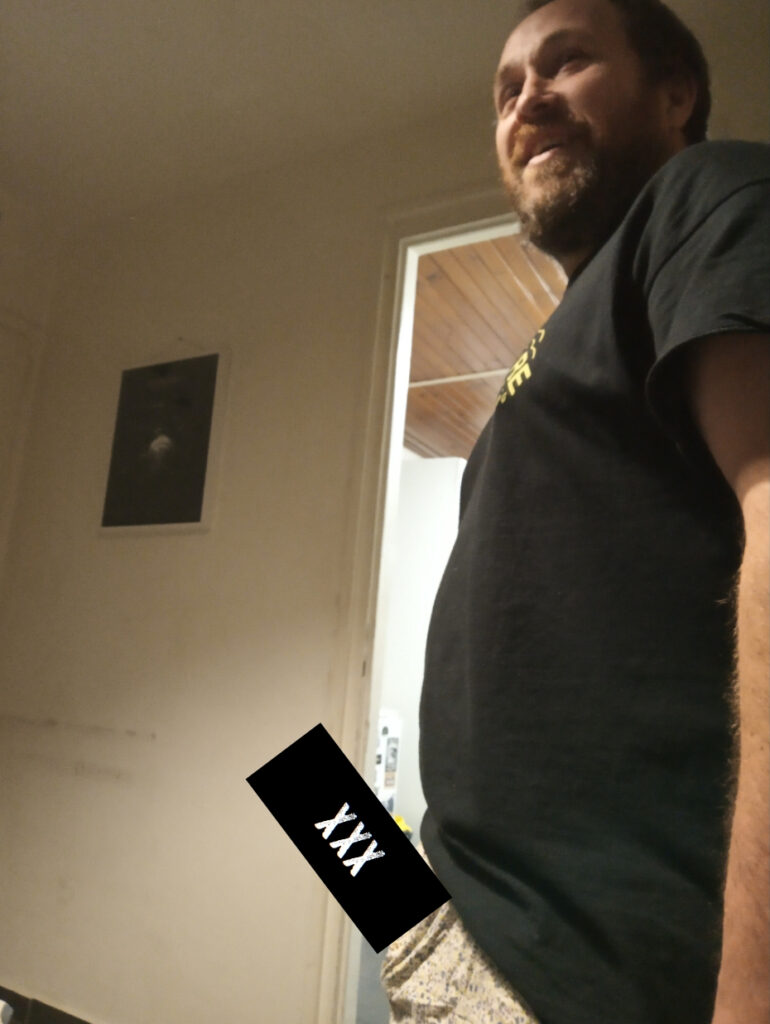 Et au fait, je suis sûr que c'est une question qu'on vous a posée plein de fois, mais Patrick Dewaere, qu'est-ce qu'il représente pour vous ? Pourquoi vous avez choisi ce nom ?
Maxwell : En fait, c'est l'oncle de Marc.
Julien : En fait, on cherchait un truc qui colle à notre musique et qui soit lié à Saint-Brieuc. Et d'un coup : Dewaere ! Il est né à saint-Brieuc. Le mec est torturé et en même temps, il y a un côté beau, émouvant chez ce mec-là et en même temps fou, violent, torturé et beau. C'était parfait, c'était ce qu'il nous fallait, Dewaere !
C'est marrant d'être attaché à une ville, comme ça…
Julien : Y rien de spécialement glorieux… C'est notre ville !
Marc : C'est la plage ET les mobylettes. C'est la base !
Julien : Moi, je suis anti-patriotique mais j'aime bien Saint-Brieuc quand même !
Et l'avenir pour Dewaere ?
Marc : On fait un deuxième disque, qui est plutôt bien en route. Les morceaux sont là mais il faut qu'on les dewaerise ! C'est la principale différence entre le disque que tu as écouté et celui qui va arriver. Sur Slot logic, on a tout composé ensemble, à l'ancienne, en répète. Pour le prochain, on a demandé à Maxwell – Maxwell compose tout le temps, de tout, il nous amène des trucs et souvent on lui dit « Non, ça, c'est pas pour nous… » – bref, on lui a demandé de nous sortir les trucs les plus pop possibles. Genre : si les Beatles étaient encore vivants, sors-nous les singles des Beatles vont sortir pour les dix prochaines années ! Nous derrière, on les détruit, on en fait les trucs les plus noise possible. Et ça donnera… ben, on verra bien, parce qu'on en sait rien, en fait.
Maxwell : Ce sera le meilleur album de 2020 ! Chaque morceau est un tube !
Julien : Il ne ment pas.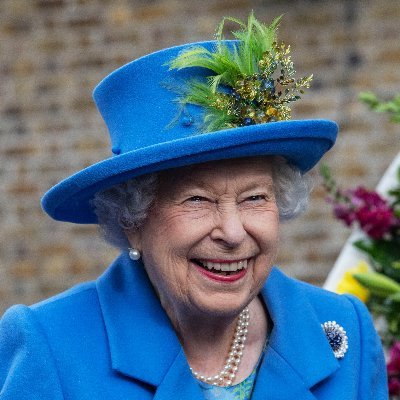 >>>>>>>>>> DEWAERE