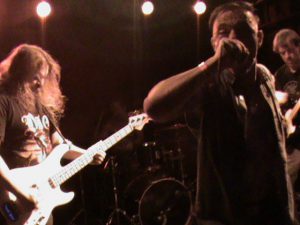 Bar In Grad, c'est la version light de Kalvingrad. Concerts un peu plus tôt que d'habitude, prix libre. On commencera directement avec BUG, vu qu'une arrivée tardive ne permet pas d'apprécier le set de Bar, ni celui de Lunch à Urgence disk un peu plus tôt – qui, paraît-il, étaient tous deux très bons dans leur style. L'Usine, on pourrait y passer sa vie.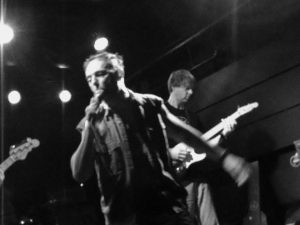 Bug, drôle de bestiole. Une vingtaine d'années d'existence, environ huit disques à leur actif, une notoriété plutôt relative. C'était la première fois que les Autrichiens passaient à l'Usine. Musicalement, c'est aussi déviant et rétif à la classification. Touche-à-tout. Blues titubant implosant en noise-rock chauffé à blanc. Disco vrillant à la crise de nerf. L'expression de Bruno Drone to the bone – « blackened noise-rock » – résume assez bien la chose.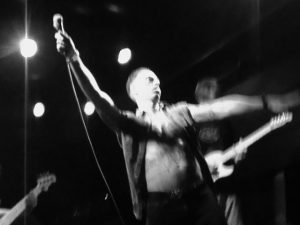 Sur scène, c'est d'abord la présence du chanteur qui marque. Pas trop d'inhibition, ni au niveau vestimentaire ni au niveau de la danse. John Travolta d'Allemagne de l'est qui aurait fait un tour par la case prison. Ultra-expressif, théâtral, il incarne et orchestre la folie du groupe. Des flashs du concert de The Conformists – autre band conduite par un crooner excentrique – reviennent à l'esprit.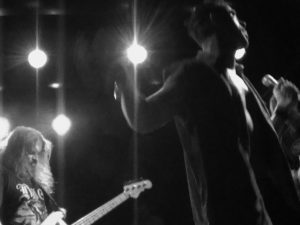 Moins démonstratifs, le reste du groupe ne fournit pas moins une performance irréprochable. Honnêtes artisans d'un noise-rock obscur, frelaté. On pressent parfois un air de famille avec les groupes géniaux d'Europe du nord comme Arabrot ou Raketkonen. Eux aussi conviés par Drone to the bone dans ces murs par le passé. Tiens, tiens.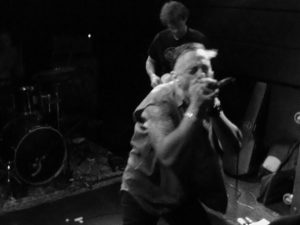 L'originalité, la sincérité et l'engagement du groupe font de ce concert un moment mémorable. Groupe génial devant une poignée de personnes.
On est habitués.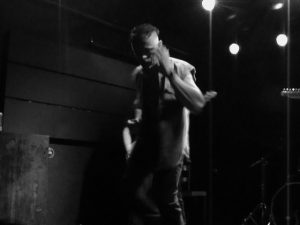 >>>>>>>>>> BUG
>>>>>>>>>> DRONE TO THE BONE